On 15 April 2009, the cruise ship
Astor
of the German company
Transocean Tours
has launched the 2009 season stops for cruise ships in Saint-Malo. This ship of 176 m long then stopped at Rouen on 16 and then to Dover.
Saint-Malo is a stopover for repositioning cruises. Indeed, cruises are held in summer in the Nordic countries, and winter in the warm waters of the Mediterranean or Caribbean. Stops in Saint-Malo have place around May and September, during the
migration
of cruise ships.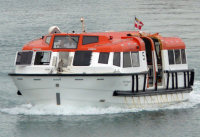 Saint-Malo receives annually about twenty ships for one day stops. In general, the vessels are too long to enter the port and remain at anchor in the bay of Dinard. Passengers reach Saint-Malo with
tenders
, small boats that are both shuttles and rescue boats.
The main attraction for tourists is the Mont-Saint-Michel.

Forecast for cruise ship stopovers in 2009
Cruise ship
IMO
Flag
Date
Astor
8506373
Bahamas
2009-04-15
Le Diamant (1)
7325629
Wallis
2009-05-06
Delphin Voyager
8902333
Bahamas
2009-05-06 (2)
Seabourn Pride (1)
8707343
Norvege
2009-05-08
Princess Daphne
5282627
Portugal
2009-05-10
Island Sky
8802894
Bahamas
2009-05-18
Regatta (1)
9156474
Iles Marshal
2009-05-21
C. Colombus
9138329
Bahamas
2009-05-22
Azamara Journey (1)
9200940
Malte
2009-05-29
Sea Cloud 2 (1)
9171292
Malte
2009-05-31
Sea Cloud 2 (1)
9171292
Malte
2009-06-08
Europa
9183855
Bahamas
2009-06-09
Van Gogh
7359400
I. Marshall
2009-06-14
Costa Marina
6910544
Liberia
2009-06-17
(1)cruise ship with a stopover in 2008
(2)Cancelled stopover