The
Belem
is the oldest french commercial sailship. It is operated by the Foundation Belem. The
Belem
is a three-masted bark built by yards Dubigeon to Chantenay sur Loire and launched for the first time on January 10, 1896.
History
The Belem was built in 1896 on behalf of armaments Crouan of Nantes. This three-masted boat was designed for trade with the Caribbean and South America.

The Belem miraculously escaped the explosion of the mountain Pele in Martinique in 1902. By lack of place to anchor in front of Saint-Pierre, the Belem had to found a shelter further, out of reach.

She continued her career in carrying cocoa for chocolate Meunier.

In 1914, the Duke of Westminster bought her to convert it into a yacht. She then receives an engine. In 1921, she became property of Lord Guinness who renames her Phantom II.

In 1952, she joined the Italian flag for the Cini Foundation, which transforms her in a ship-school under the name Giorgio Cini. At the end of the 70's, she is abandoned in a yard in Venice.

With the help of the Union des Caisses d'Epargne, the Foundation allows the vessel to regain its original name and french flag in 1980. After restoration and spent several years at the quayside in Paris, Belem found its home port of Nantes in 1985 where she is operated as a cruise school-ship.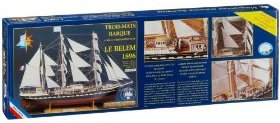 A wooden model of the Belem is edited by Soclaine