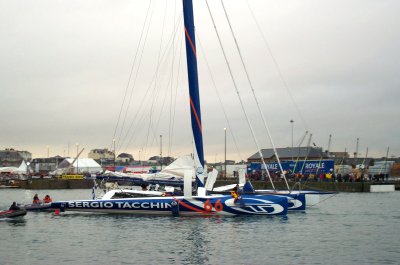 Trimaran Sergio Tacchini at Route du Rhum 2002
For its 6th edition, the Transat Quebec / St Malo in 2004 started from Quebec on Sunday, July 11, 2004 to Saint Malo.
This ocean race with a crew of at least three people, succeeds traditionally the single-handed trans-Atlantic race: The Transat.
The fleet was composed initially of 12 multihulls of 60 feet, 4 multihulls of 50 feet and 3 monohulls of 50 feet.
In 60-feet multihull category, the race was won by Karine Fauconnier and her crew on the trimaran Sergio Tacchini in 7 days 21 hours and 54 seconds. She thus approaches the record of the event directed by Loic Peyron during the 1996 edition in 7 days 20 hours and 24 minutes on Fujicolor II.
Franck-Yves Escoffier won the 50 feet multihull class on Crêpes Whaou!.
Finally, in 50-feet monohull class, Marina Fort Louis Ile de Saint won.
Find all the information on the race on http://www.quebecsaintmalo.com/.



Results

St.

Boat

Average speed
60 ft Multihull

1

Sergio Tacchini

7 j 21h 0 mn 54''

15,36 nds

2

Groupama

à 58 mn 8''

15,28 nds

3

Géant

à 1 h 0 mn 55''

15,28 nds

4

Sodebo

à 1 h 9 mn 48''

15,27 nds

5

Tim Progetto Italia

à 2 h 14 mn 41''

15,18 nds

6

Foncia

-

-

7

Banque Populaire

-

-

8

Sopra Group

à 1j

13,44 nds

9

Banque Covefi

à 1j

13,41 nds

10

Gitana X

à 1j

11

Mediatis

à 1j

-

Gitana XI

Abandon

Results

St.

Boat

50 ft Multihull

1

Crêpes Whaou!

2

Bonjour Québec

3

Jean Stalaven

4

GIFI
50 ft Monohull

1

Marina Fort Louis Ile de Saint

2

Branec III

3

Ciment St-Laurent