The Solidor 4 was built in 1987 by Westamarin yards at Mandal (Norway).
She may embark 300 passengers and 32 cars. Her propulsion consists of 4 MTU diesel with a total of 8000KW and Kamewa waterjets.

Solidor 4 has been allocated from 2001 to 2004 to serve both Channel Islands in complement of Solidor 5. A little slower, she completed the connections St-Malo/Jersey and St-Malo/Guernesey in 1:30 and 2:15.

In 2003, Solidor 4 became Aline and was repainted in the colours of Senegal Express.

In 2004, Aline has resumed her service on Jersey under the banner of Emeraude Jersey Ferries (Emeraude Lines was absorbed by the group Sogestran).

In 2005, Aline became the PITIUSA NOVA under the Spanish flag on behalf of Iscomar (http://www.iscomar.com) on the route Ibiza and Formentera.
In February 2014, she was acquired by Balearia and became Formentera Direct, still under the Spanish flag.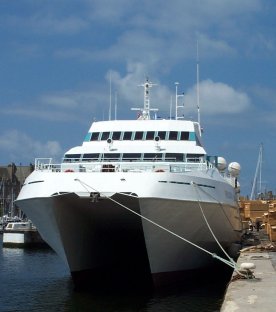 Before calling Solidor 4, he had called ELBA EXPRESS (1998), MADIKERA (1995), ANNE LISE (1993)