For this report, I would like to thank the Van Heyghen site for his kind contribution and the authors of the photos who allowed me to use them.
Historic recall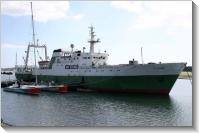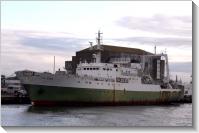 Victor Pleven
arrived at the Keroman submarine base of Lorient in 1996 (left picture). She served as a museum dedicated to fishing. But its operations were not profitable, she was bought in 2002 by Cap l'Orient, the grouping of communes of the Pays de Lorient.
In March 2006, the
Victor Pleven
no longer corresponds to the orientations of the Kéroman base. She is transferred to the fishing port (right photo).
In June 2008, Cap l'Orient decided to get rid of the old malouin trawler
Victor Pleven
. She will be deconstructed in Ghent, Belgium. She is sold for a symbolic euro to the Belgian company
Van Heyghen Recycling
, subsidiary of
Group Galloo Recycling
.
---
Last navigation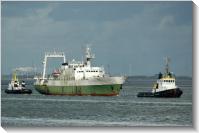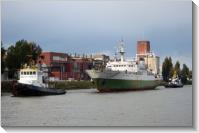 Victor Pleven
is from Lorient on 28 September 2008. Private since 1992 with her propeller and part of her engine, she was taken in tow by two tugs of the Dutch company
Multraship Towage and Salvage
.
Multratug 7
at the head of the convoy, was a tug built in 1977, 34.5 m long and 10 m wide and capable of providing 52 tons of traction. At the rear, a second tug allows to slow the convoy and to regulate the speed (5 to 10 knots depending on the tidal currents). Le
Victor Pleven
est donc parti de Lorient le 28 septembre 2008.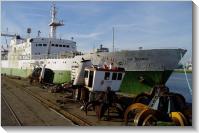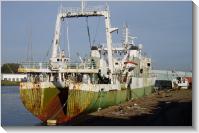 It took four days for this trip around the tip of Brittany, the Channel and arrinve in Terneuzen in the Netherlands at the mouth of the Scheldt on October, 2 (left photo, above). She then crossed the canal in Ghent Terneuzen, 32 km long and can accommodate vessels up to 265m in length for a maximum draft of 12.5 m.
Victor Pleven
had been moored in the late afternoon, docked along the Van Heyghen site (left photo) in Ghent, Belgium.
---
Scrapping
The scrapping of
Victor Pleven
started at the beginning of 2009, after the yard has scrapped twenty Irish trawlers. The first work consisted in the removal of asbestos and housing.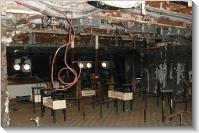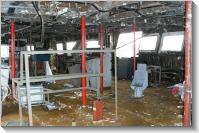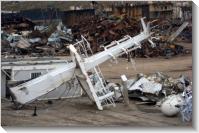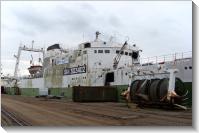 To be continued...